A few weeks ago, I decided to undertake a new challenge – redoing an old linoleum floor in my laundry/pantry room. Now let me make one thing clear – the only tool I own is a power drill that I use to make shell necklaces. I am crafty but home renovation was previously out of my realm. This was a big undertaking so I decided to start by doing some research.
Since my washer and dryer were going in there, I wanted to do something waterproof or at least water resistant. The other challenge with this room is a trap door to get into my crawlspace in the middle of the room. Since the door is already quite heavy, I didn't want to use tile because I felt like it might make the door too much of a beast for me to pick up on my own and I need to have access to the crawl space in case I ever need to check on my furnace, plumbing, etc. Finally, I wanted to do something eco-friendly and affordable.
The first thing I did was to head to The Green Building Center here in Salt Lake City, UT. Their staff was knowledgeable and friendly and they have so many cool products to look at – I especially love the recycled glass countertops and their zero VOC paint selection. It is crazy how toxic many building materials are.
After looking at that, I met with a few flooring specialists, got some bids, wracked everyone's brains for ideas, and thought about it for a few weeks. I checked out Habitat for Humanity's Restore, a home building thrift shop in Salt Lake and Recycle Utah in Park City to see if either had any cool left over pieces of flooring I could use. By the way, if you ever are doing a remodel and have any leftover or demo materials, bring them to these places instead of throwing them away. You would be amazed at what people can do with your old kitchen cabinets!
I was at my wit's end trying to decide what to do so I called the folks at the Green Building Center again. Ashley, the owner, suggested one product I had never heard of – Deco – Poz, an eco-friendly concrete overlay product. You can lay it down over almost anything, it is waterproof, looks cool and is easy and affordable. I was sold! I went in a bought all my materials that afternoon for the weekend ahead.
Peeling linoleum is not nearly as fun as I thought it would be… When I started, there was a big seam and I thought I could just get underneath that and get it all off in a little bit but obviously, that was not the case. 
Day 5: the real fun began! Mixing up the first batch of Deco-Poz. I had done a mini-practice batch before and laid it on a piece of plywood. The Green Building Center had recommended I did that, and it made me much more comfortable working with the product before taking it to my actual floor.
As an artist, I really enjoyed working with this product. It was a little stressful because it dries so fast, especially on a hot day in dry Utah. I used a Magic Trowel to get it flat and smooth.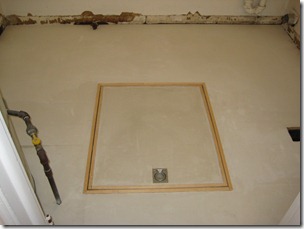 Yeah! It didn't take very long and I had a new floor!
Day 6: I sanded the concrete. Since I had the room wrapped in plastic, there are no pictures. I wore my respirator, goggles and gloves. I tried to do a wet sand but it didn't work very well with my power tools so I dry sanded. There was a lot of dust – I did my best to shop vac up all the dust. But I just did a light sand and it came out very smooth.
The stain came out a lot darker than I thought it would.  Staining was hard – you really have to push it in.  It's not like painting at all.
I used Vermont Natural Coatings low VOC polyurethane and did 3 coats to get a semi-gloss finish.
After that, I added the baseboards, painted the walls and voila! New laundry room! It took a lot longer than I expected and was a lot of work but now I have the satisfaction of a job well done.
I would definitely recommend Deco-Poz concrete overlay for anyone looking to redo a kitchen, bathroom or laundry room floor. It is modern, affordable, and eco-friendly!
Also, be sure to check out the Green Building Center here in Salt Lake City – they have some great products to help with your next project.